It's the last few days of summer when everyone is at camp and far from home. Memories have been made and friendships have blossomed (maybe even something more than a friendship). When you're young, you want to test what is possible—experimentation becomes attractive, but all the more fearful. Wet Hot American Summer explores the tumultuous road in finding closure when the last pages of summer are just being written. There have been a variety of farces set at summer camp, but Wet Hot stands out from the rest for me—being caught in a fascinating tug of war between progressive themes and stale raunch. It's more formative than any other comedy I can think of.
Either assembling or launching the careers of several of the biggest names in comedy such as Paul Rudd, Amy Poehler, Michael Showalter, Janeane Garofolo, Joe Lo Truglio, Elizabeth Banks, David Hyde Pierce, Molly Shannon, Michael Ian Black, Christopher Meloni, and Bradley Cooper, we see some unresolved business in Camp Firewood in the summer of 1981. The camp counselors are horny, the campers are unattended and everyone is racing against the clock that is the talent show finale. Head counselor Beth (Janeane Garofolo) falls for Henry (David Hyde Pierce) after a last-minute invitation when discovering he is an astrophysics professor. Meanwhile, Coop (Michael Showalter) is pursuing Katie (Marguerite Moreau) when the courage is finally worked up and she is feeling abandoned by Andy (Paul Rudd, who steals every scene) who left her for Lindsay (Elizabeth Banks).
And that's only the half of it. Director David Wain, along with a script from Michael Showalter, constructs this like a loose, Robert Altman approach. The sprawling cast of characters who don't any real focus becomes tiresome at times and the leads are banal. Yet the underlying joke is that every character is played by someone way out of their age. The counselors are supposed to be teens approaching their 20s but the fact that Wain and Showalter cast nobody that fit the right age just adds to the absurdity. What is so good about Wet Hot is never switching the perspective away from the counselors. The film hardly attempts to turn gears into hard-hitting drama and it reflects the behavior of the juvenile teenagers. Regardless, if not every joke lands, it's the exaggeration and sincerity that Wain never ignores. The counselors don't really take the job seriously, and neither does the movie.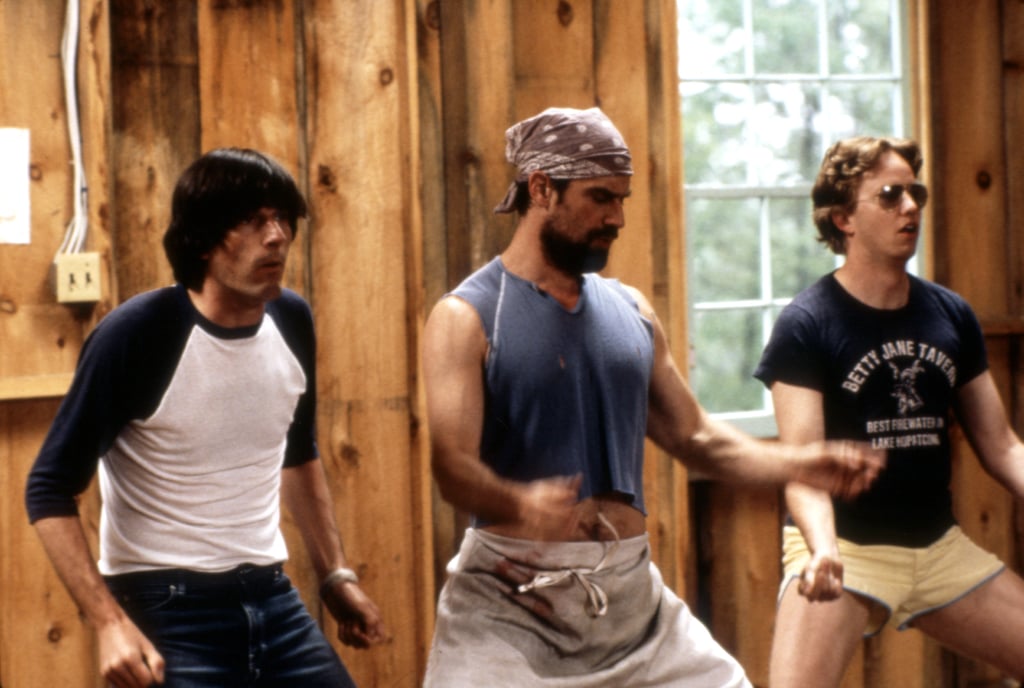 Wet Hot is never reaching for anything outside of its narrative grasp. The plot is never its main concern as opposed to who needs to resolve what relationship before the end of the day. The ticking clock becomes even more crucial when there is no structure. Are these things meaningless when all said and done? Maybe. But it is all luxuriating in the "good old days" just as it is recognizing how silly it all was. From the outfits, haircuts or general anxieties, the script is in a constant tug of war with itself between appreciation and analysis, and all the better for it with how the majority of crude comedies can favor one or the other.
Of course, 18 years later, some material feels stale. However, it never approaches Porky's or Meatballs territory of only functioning at that time. What jokes do and don't work for you will vary, but the ensemble is so locked in, it's hard not to vibe on their level.
For example, this one scene where douche bag and careless Andy just throws his plate of food on the ground and Beth (Janeane Garofolo) tells him to pick it up with the authority that this has clearly happened so many times before. Andy does so but Rudd just flails his body around with such frustration and irritation, as if he was accused of doing this despite being the already being the worst counselor that Camp Firewood has to offer. There are little moments sprinkled throughout like that, and the commitment to each performance trumps even the more ordinary jokes when the gas runs low.
2001 was full of titles that were ahead of its time and went on to achieve cult status like David Lynch's Hollywood fever dream Mulholland Drive or Richard Kelly's Donnie Darko. Wet Hot American Summer has a similar narrative with only making about $300,000 (domestically), it seemed like audiences just weren't ready for it. In 2015 and 2017, Netflix gave it the reboot treatment: The First Day of Camp and Ten Years Later. Resulting in varied reception, it continued to show that there is still an audience for vulgarity.
Summer ends faster than it starts. It's the universal problem that everyone faces, especially the youngest ones who need it most. Everyone is at their most juvenile, the lake becomes euphoric and your diet consists of s'mores and hot dogs. Wet Hot understands the fragility and absurdity in how precious summer break is.