So, Brad Pitt is now fifty-six years old with a career under his belt for nearly three decades that has enough public baggage to drive anyone out of the entertainment business. It's 2019 and Pitt headlines two of the most anticipated films of the year with Quentin Tarantino's Once Upon a Time in Hollywood and James Gray's Ad Astra, only adding on to his legendary catalog of work. He has gotten to a point where he doesn't need to sell a new project and we can look past the director or genre—just his name and face are enough to grow curiosity. He has worked with a bevy of filmmakers that challenge him and bring out the best of what people love about him (both great qualities in their own right). Terrence Malik, David Fincher, the Coen Brothers, Steven Soderbergh, Terry Gilliam, Andrew Dominik, Alejandro González Iñárritu and Guy Ritchie are among some of the talented directors he has worked with. Pitt is only as giving as much as he has with every performance—he has never undergone many physical or mental method transformations, yet what he has is something we don't see very often.
Able to coast smoothly on authentic charisma, he creates an even more commanding presence without it. You can call it typecasting, that he is usually an "every man", who, you know, looks like Brad Pitt, at the very least his take is a man with less than extraordinary abilities. His performance as Billy Beane in Moneyball, for example, shows the underlying sadness he carries with him throughout the film. That Beane choosing to rebel against the standards of baseball analytics rather than conforming is then lifted from interesting to inspiring, given it is Pitt to portray such a magnetic presence. Not to mention Pitt was in his early 50s when he made this, the timing made all the more appropriate given the popularity of baseball movies, anchored by leading men when they begin to age.
Ever since popping up as charming criminal J.D. in Ridley Scott's Thelma and Louise, Pitt has always been a scene-stealer. Just as easy to command a scene when he is the anchor of the film, his presence can be felt and adored even when screen time is limited. Following Thelma and Louise, he brought one of his great minor character performances in Tony Scott's True Romance as a couch ridden stoner named Floyd. Both films came out within the same few years offering a similar, albeit captivating side of Pitt—the guys that are only in the background to offer depth to more of the major characters, like (spoilers for Thelma and Louise and True Romance) J.D. sleeping with Thelma and Floyd leading the police to Clearance and Alabama.
Above all else, Pitt has been used to comment on masculinity in all the forms it takes on in America. Always coming across as stern and austere, but also understanding and wise. Fight Club is what really made this a popular type for him, with Tyler Durden being the ultimate criticism on masculine toxicity and ideals that frustrated that generation in the late 90s. Pitt plays male characters with authority and command over other characters, which is a clever way to give him control over the movie by the result. Inglourious Basterds, Fury and The Tree of Life (which was the best use of his bravado) all examine men and who they once were. Originally from Montana, Pitt comes from a lineage of no-nonsense, weakness-free morals with intolerance for showing emotion or fear. The roles he had in Fight Club and The Tree of Life gave him a chance to reflect on the kind of man that he was brought up to be and has become.
Pitt also has flawless chemistry with pretty much any co-star he is paired with. How good he can be with a majority of the finest actors around also confirms how adaptable he can be. Such as playing partnered detectives with Morgan Freeman in Se7en, shocking the world of baseball with Jonah Hill in Moneyball, being the right-hand man to one of the coolest criminals ever with George Clooney in the Ocean's trilogy, or even most recently, the duo of Rick Dalton and Cliff Booth in Once Upon a Time in Hollywood with Leonardo DiCaprio's exuberance being the perfect foil to Pitt's cool demeanor. It could be seen as he is just playing the straight man when next to an eccentric type (or in Burn After Reading when it's the opposite and brilliantly done), but he brings so much confidence and personality to when he does play second fiddle that any kind of character dynamic formula suddenly evaporates.
Even though Pitt himself has shown the ability to play eccentrics as well like in 12 Monkeys or Snatch, it's when he dials it down to where we can see the best of what he has to offer as an actor more than just a movie star. Films such as Alejandro González Iñárritu's powerful worldwide tragedy Babel, Andrew Dominik's revisionist western The Assassination of Jesse James by the Coward Robert Ford, or Terrence Malik's cosmic family drama The Tree of Life remind us why we treasure Brad Pitt as much as we do. As iconic as Fight Club or Ocean's Eleven have become, it's what Pitt chooses to reserve emotionally that shows how much he has matured as a performer—giving him time to reflect as a person that forms the character.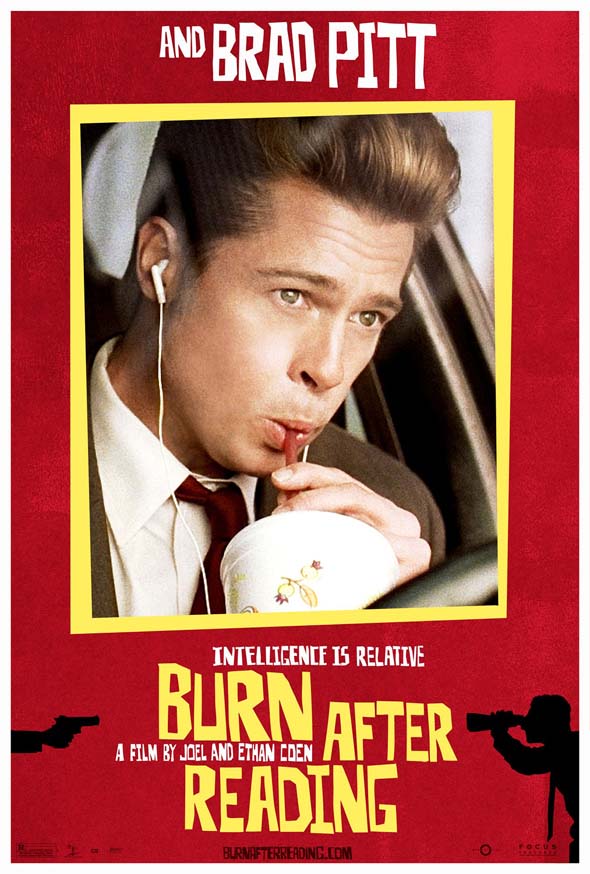 Something that The Tree of Life and The Assassination of Jesse James by the Coward Robert Ford have in common is the idea of idolization—that we have this one guy that just has everything that we don't and aspire to be. The concept of celebrity—whether it be through an enigmatic criminal or a stern father figure—is universally accepted to be something we all project onto others when we feel most doubtful about ourselves. Brad Pitt, the person, has become such a larger than life figure that his name means so much more than any other movie star currently working (which is partially the reason Once Upon a Time in Hollywood made as much as it did). For someone who's accumulated as much range, charisma, and off-screen narratives as he has, his peak is never something that defines him. In some variation, he'll always be here, regardless if this supposed hiatus from on-screen performing is true or not.
More than Brad Pitt the actor, Brad Pitt the producer (with the help of his company Plan B Entertainment) has risen to prominence in the latter half of his career. He selflessly uses the clout he has built up throughout the years to help fund and visualize filmmakers' passions come to be. Hell, it could be said he is one of the best producers working right now just on the titles he has been apart of. He could be featured in a supporting role with a producing credit like in The Big Short or 12 Years a Slave, or even where he isn't apart of the cast such as Okja, Moonlight, The Departed, The Lost City of Z or one of 2019's very best, The Last Black Man in San Francisco.
The amount of films he has supported is prolific, and it kind of makes you go "wait, Brad Pitt produced this?" But it shows that this kind of branching out is an exciting new phase in a career that's already so well respected. Pitt isn't particularly outspoken about his choices as a producer and tends to quietly finance projects for directors like Bong Joon Ho and Barry Jenkins as a fan—because what more does Brad Pitt have left to prove?